Regular price
Sale price
$15.00
Issue 1: Objects In the Mirror
---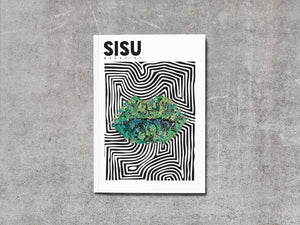 Regular price
Sale price
$15.00
Issue 1: Objects In the Mirror
---
Please note this listing is for the digital version of Issue 1; all print copies have sold out. After you place your order we will email you a link to download the digital version.
From the Women's March to the #MeToo movement, people have been grabbing the patriarchy by the horns and showing him who's the boss. Despite this progress, we realize that the past is not that far behind us and systemic change is a long and challenging process. In the first issue of Sisu Magazine, we uncover the untold stories of women, people of color, LGBTQIA+, and male allies who are navigating the complexity of staring into the rear view mirror while also keeping their sights set on the road in front of them.
Pick up a print copy of Issue One today!
Click here to access the on-line version of Issue One of Sisu Magazine. Click here for our annual subscription. 
Contributors include:
There's Only One Thing: featuring Andrea Katzeff &  All In, The Latest Ski Flick: featuring Michelle Parker by Jennifer Gurecki 
Ask Jenny: Questions and Answers about life, the outdoors, and whatever by Jenny Bruso
An Indoor Girl On The Outdoors: Why Are There So Many Damn Doors? by Melanie Briggs
A Women's Place by Julie Brown
Don't Call Me A Lady by Genevieve Parker, Kate Sage, Justyne Zella Rayne
By The Num83R5 Women In Politics by  Samantha Romanowski
The Pitch Noso Patches by Kelli Jones
Mindfully Crafted: Five Outdoor Brands You Probably Don't Know But Should by Erica Zazo
Best Foot Forward by Chelsea Wilson
Northern Adventure by Taylor Roades
Poetry In Motion: Tell Me About Your God by Lala Drew
Who's In Charge? by Lynsey Dyer
When I Was 17-Years-Young. by Jen Hudak
Ione's Kit List by Ione Gangoiti Perez
Soulful Social Justice: Revisiting Your Reflection; The Inner Work Required For Radical Racial Justice by Rachel Ricketts
Ya' at'eeh by Jaylyn Gough
Entangled by Devan Bridson
Lost And Found by Lauren Bello Okerman
Unpacking Winter Camping by Madeline Kelty
Get it Together: How to Prepare for Winter by Rachel Friedman
Eat, Drink + Be Merry: Peppermint Mocha Cupcakes by Vanessa Barajas
That's What He Said by Andrew Pridgen