Regular price
Sale price
$15.00
Issue 2: Grounded
---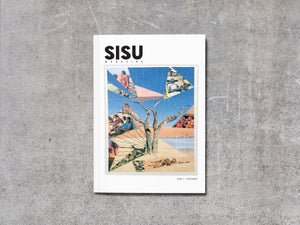 Regular price
Sale price
$15.00
Issue 2: Grounded
---
Please note this listing is for the digital version of Issue 2; all print copies have sold out. After you place your order we will email you a link to download the digital version.
The theme of Issue Two is Grounded. Inside our contributors are exploring topics that everyone is talking about—such as substance free experiences, to dealing with depression, to creating sacred and safe spaces—but often these conversations are whispers that are drowned out by a much larger and louder narrative that has become a pillar in the outdoors. Après following a day on the slopes and beers at the tailgate after a long ride. Summiting peaks, going big, and getting rad.
If that's how you do the outdoors, you keep doing you. But if there is anything that we've learned over the years, it is that people experience the outdoors in very different ways. Those differences are not only stark and recognizable, they are valuable. They are helping to expand the perception of who plays in the outdoors, and why, and even what constitutes an outdoor experience.

Beyond exploring how we can become emotionally grounded by creating intentional spaces in the outdoors and talking about issues that have been incredibly stigmatized in our society, we also are examining the literal earth, from biodynamic farming to how we have created the concept of wilderness.

The print version of Issue Two ships through May. All print Annual Subscriptions come with a secret special gift. Check it out on-line on Issuu here. 
Contributors include:
Permission to Play by  Teal Stetson-Lee
The Evolution Of Dreams by Brie A. Moore Photos by Hans-Martin Kudlinski
Ask Jenny: Question and Answers About Life, the Outdoors, and Whatever by Jenny Bruso
An Indoor Girl On the Outdoors: The Park Ranger Is Gonna See Your Ass by Melanie Briggs 
Don't Just Talk About It by Kriste Peoples
Get Out + Get In by Julie Brown
Stoked and Awed to be Sober in the Backcountry by Sonya Pevzner Photo's by Loius Arevalo
No Boys Allowed by Alexandra Lev Photo by Kari Magnus
Losing a Limb: featuring Dr. Mary Jackson by Jennifer Gurecki
What's In My Pack by Andrea Slusarski
The Pitch Hoffgoods by Haleigh Hoff
Homemade and Handcrafted: Four Brands with Artisan Goods Built for any Adventure  by Erica Zazo
Whose Playground? by James Savage & Antony Koine Makumi 
Packing A New Perspective & Top 5 Tips for Traveling Across Africa by Jennifer Gurecki Photos by Jennifer Gurecki Artwork by Andrea Slusarski and Lauren Bello Okerman
Poetry In Motion: Conundrum by Sydney Zester
Self-Serving: A guide to self-care for your mind, body & soul by  Latasha Dunston
When The Cows Come Home by Tibby Plasse
Snowghosts of Our Friends by Lisa Slagle
Who's In Charge? by Lynsey Dyer
Be Seen by Devan Bridson
Clearing, Healing, and Planning by Samantha Romanowski
Financial Cents by Hsin-Cheng Kuo
Eat. Drink. + Be Merry: Limoncello ice cream by Vanessa Barajas
That's What He Said: Mansplaining Mansplained by Andrew Pridgen