Regular price
Sale price
$15.00
Issue 4: Plans Change
---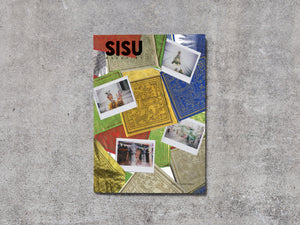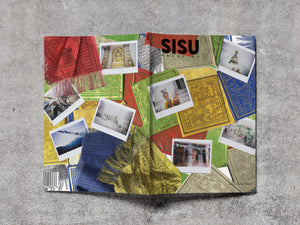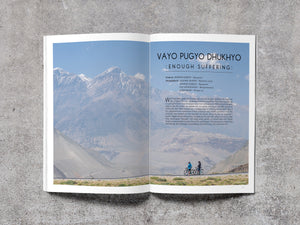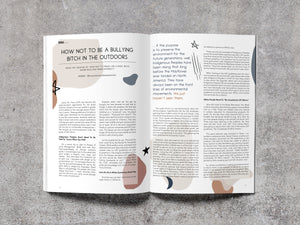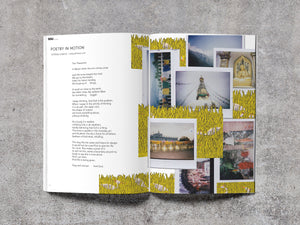 Regular price
Sale price
$15.00
Issue 4: Plans Change
---
Please note this listing is for the digital version of Issue 4; all print copies have sold out. After you place your order we will email you a link to download the digital version.
Changing plans is likely part of any successful creative process, especially if you are doing a significant amount of creating. Many times our best work is quite derivative of our original intent, and most of the time far exceeds expectations (all of this provided you can roll with the punches and hang on through the tight corners). The lesson: Let go and hang on at the same time.
Inside Issue Four: Plans Change, you'll see artifacts found, created, and sought out from Editor Jennifer Gurecki's travels through Nepal––a journey she imagined would happen one way, but progressed quite differently. She found herself in places, mentally and physically, that she didn't expect. She did, however, end up immersed in the essence of the place, sort of like Alice on the other side of the Looking Glass. In this issue of Sisu Magazine, we experience her trip via her documentation through the lens of a Lomo wide-format instant camera, interviews with unexpected acquaintances, found art work, and unusual stories of the road. It's clear that when Jen stopped expecting, she started finding.
Nepal is full of color and texture. The brightest and most familiar of sights are the strings of iconic prayer flags that bless the countryside. Imbued with layers of symbolism, the flags are decorated with imagery, mantras, and the repeat of five colors, representing the elements of the earth and sky. Though they often appear to be ancient, the commingling of brand new and threadbare prayer flags flown together actually represents the acknowledgment of a never-ending cycle—the permanence of change. As the new flags fly bright and bold, the older flags fade with their prayers and blessings blowing into the wind. This most beautiful icon of change is captured on this issue's cover, joined with instant and analog photography, sometimes double or over-exposed, a snapshot of the perfection of flux.
Join us in celebrating this creative lesson, embrace change as a given, and let it teach us to follow paths to places we never expected.
Issue Four: Plans Change was made possible by our friends at Liv Cycling  ❤️
Contributors include:
Opening Path in the Woods: How Geotagging Keeps Some People In And Other People Out by Meghan O'Dea
Ask Jenny Bruso: Questions and Answers About Life, the Outdoors, and Whatever by Jenny Bruso
An Indoor On the Outdoors by Melanie Briggs
How Kittie Knox Changed Bicycling Forever by Joe Biel 
Please Send More Orders: A Glimpse Inside a Knitting Factory Tucked Away in the Ancient City of Bhaktapur by Jennifer Gurecki
The Pitch: Bhavana Coffee an interview with Jennifer Lan 
Vayo Pugyo Dhukhyo: Enough Suffering by Jennifer Gurecki
What's In Their Pack?: A type 1 Kit for Type 2 Fun with Jen + Roz by Jennifer Gurecki
Queen Of The Mountains: How one Woman's Dedication to Cycling Has Taken Her Places Few Nepali Women Have Ever Reached featuring: Laxim Magar by Jennifer Gurecki
From the Perspective Of Nepal: Sustainable & Ethical Adventure Travel by Mary Jackson, Ph.D.
Not For His Mouth: How One Nepali Man is Following in His Monther's Footsteps to Change the Lies of Local Women by Jennifer Gurecki
A Two-Wheeled Experiment For Entrepreneurs: How Kathmandu-Based Portal Bikes is Trying to Revolutionize Cycling for the Working Class by Jennifer Gurecki
Bike Camping Made Easy by Martina Brimmer
Gear To Get You Started: 5 Brands for 5 New Outdoor Adventures by Erica Zazo
Poetry In Motion: The Treesome by Athena Fliakos
How Not To Be A Bullying Bitch In The Outdoors: From the creator of "How Not To Travel Like A Basic Bitch: Where Race and Travel Intersect" by Kiona
Between the Seems: A look at the people behind the brands we love an interview with Khristian Gilham
Who's In Charge?: It's never too early to get dialed in for winter. Pro tips to hit the snow running by Lynsey Dyer  
Eat. Drink. + Be Merry: Pumpkin Bread by Vanessa Barajas
That's What He Said: Crying Pillow by Andrew Pridgen