Regular price
Sale price
$15.00
Issue 6: Making Waves
---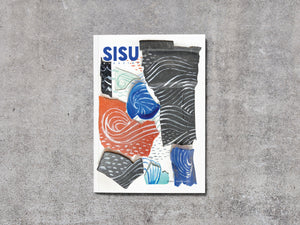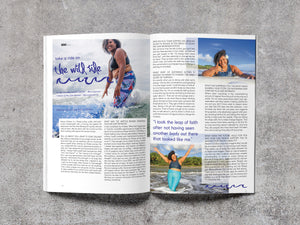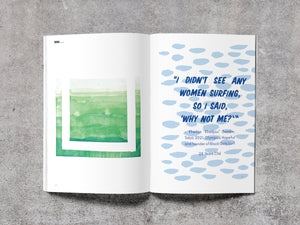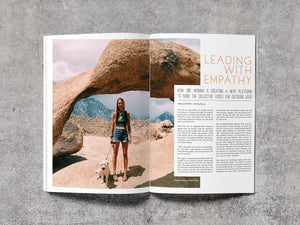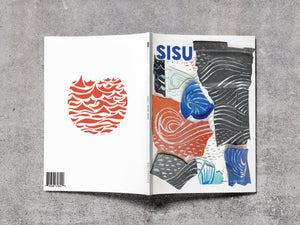 Regular price
Sale price
$15.00
Issue 6: Making Waves
---
Please note this listing is for the digital version of Issue 6; all print copies have sold out. After you place your order we will email you a link to download the digital version.
As we put the finishing touches on Issue 6: Making Waves, we are in the middle of an unprecedented global pandemic. By the time you read this issue, the world will be different than it is now and this rapid, disruptive change will likely be the new normal for months to come. 
While we are well aware of the immense challenges and suffering that the coronavirus has unleashed upon us, we find solace in contemplating what the future could hold if we choose to use this moment in time as a reset: a minimum basic income, universal healthcare, flexible and remote work, paid leave, an earth that can breathe again because we slowed everything down. 
It's fitting that the theme of this issue is Making Waves, as our way forward will be created by people who are willing to challenge the status quo. This issue contains stories about the people who have always challenged taken-for-granted beliefs that have held us back in so many ways.
Now that we have all been forced to slow down, there's more time to absorb the words, photography, and art of our contributors. From Kanoa Greene who never saw a woman like herself on a surfboard, to Christina Lustenberger who has carved out her own place in big mountain skiing, to two friends who didn't allow a border to stop them from creating a life-long bond with each other, this issue is dedicated to the individuals who push back. The beauty in it all is what emerges from their seemingly small acts of resistance. 
We hope that as you flip through the pages of Issue 6, you are inspired to think about how you can make waves during this historic time. It's what is going to get us to the other side. 
Thank you to Karukinka for helping to make this issue possible by sponsoring the bi-lingual story "The Pull of Patagonia," written by Emily Hopcian and Carolina Ibarra.
Issue 6: Making Waves will ship the end of April. All Annual Subscribers will receive free access to the digital version in advance.
Contributors include:
Wading Into The Undertow by Meghan O'Dea
The Pitch: Alder Apparel an interview with Mikayla Wujec & Naomi Blackman
Ask Jenny Bruso: Questions and Answers about Life, the Outdoors, and Whatever by Jenny Bruso
An Indoor Girl on the Outdoors by Melanie Briggs
Leading With Empathy by India Alfonso 
Low-Waste Living on the Road Q&A with Naomi & Dustin Grevemberg
Baja Bound by Jennifer Gurecki & Rachel Friedman Elberts
The Pull of Patagonia by Carolina Ibarra & Emily Hopcian Photos by Timothy Dhalleine
Line and Wave: Watercolor Studies by Lauren Bello Okerman 
Himalaya an Interview with Cassidy Randall Photos by Colleen Gentemann
Take a Ride on the Wild Side an interview with Kona Greene and Photos by Carlos Palacios 
An Excerpt from Antarctica Becomes Her by Melissa Haeffner P.H.D. 
Polar Plunge by Tiffini Eugene
Protecting our Oceans by Erica Zazo
How Not to Travel to Hawai'i like a Basic Bitch by Kiona
Poetry In Motion: Turquoise & Brown by Olivia Vandamme
Heal Thyself: Tips for Self-Touch by Samantha Romanowski Illustrations by Latasha Dunston
DIY: Make Your Own Zine with Seawitches by Margaret Seelie
Eat, Drink, + Be Merry: Paleo Nachos by Vanessa Barajas
That's What He Said: Honest Job Descriptions for C-Suite Bros by  Andrew Pridgen